Vicious Labyrinth
Information
Released
1.5.0
Songs
6
Cost
500 Memories
Type
Story
Past the distorted girl's future lies...
A tide of sorrow sweeps over the world of Arcaea. Experience Tairitsu's torments as she pursues the deeper, twisted pasts that await as well as a treacherous anomaly that lies hidden... Featuring intense, challenging songs.
Vicious Labyrinth is a song pack added in version 1.5.0. It contains six songs with one anomaly song, Grievous Lady, the first song to have a level 11 Future chart. It costs 500 Memories to unlock. It also allows you to unlock two maps in Chapter 1 of World Mode in which you can obtain the Partners Tairitsu (Axium) and Tairitsu (Grievous Lady).
List of Songs
Songs with titles in bold are unlocked in World Mode.
Unlock Progression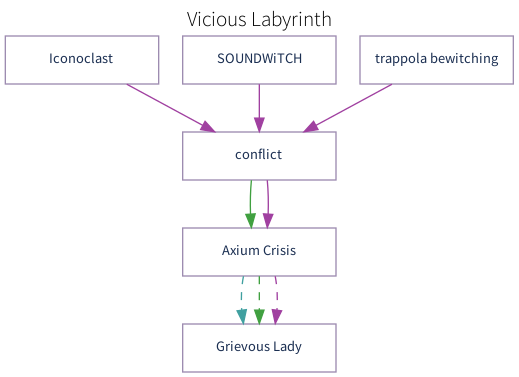 Trivia
Vicious Labyrinth's internal name is "yugamu", which is Japanese for "twist/distort".
This song pack consists of only Conflict-side songs.
All of the songs in this pack are made by BMS artists.
All of the songs in this pack are composed specifically for Arcaea, except for conflict and SOUNDWiTCH.
Community content is available under
CC-BY-SA
unless otherwise noted.