Luminous Sky
Information
Released
1.7.0
Songs
6
Cost
500 Memories
Type
Main Story
The girl's mind turns empty under a bright sky...
The skies of Arcaea brighten overhead. Experience an intense story of light as Hikari journeys into the realm of the mind, into emotions and memories, without knowing of the ending that awaits her, nor the anomaly that could be her salvation...
Luminous Sky is a song pack added in version 1.7.0. It contains six songs including one anomaly song, Fracture Ray, the second song to have a level 11 Future chart. It costs 500 Memories to unlock. It also allows you to unlock two maps in Spire of Convergence in which you can obtain the Partners Hikari (Zero) and Hikari (Fracture).
List of Songs
Unlock Progression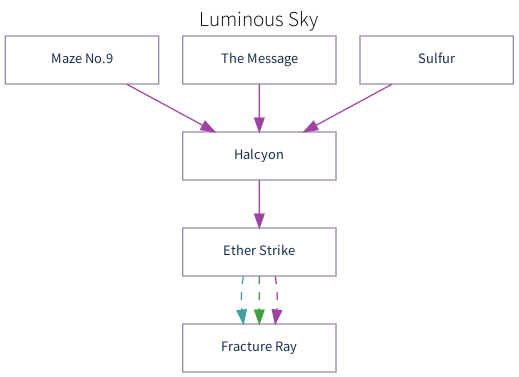 Trivia
Luminous Sky's internal name is "rei", which is Japanese for "ray" or "zero".
This pack consists of only Light side songs.
Community content is available under
CC-BY-SA
unless otherwise noted.